Cleaning of white vans is really a challenge; if you know how to clean white vans you can use them for the long term. It is also a truth that white vans are famous at all ages as children love to wear them while old age people also adore them because of comfortability and decency related to white vans. Few tips may help you to keep clean white canvas.
You should treat your white vans as you treat your clothes because the canvas is made up of cloth material.
As your white vans are more prone to dirtiness, so they must be cleaned on daily basis.
You can simply clean them by putting them in washing machine in cold water. Throw a towel in the washing machine to avoid too much banging.
If your shoes are old and falling apart then do not put them in the washing machine rather soak them in water containing detergent and rub gently.
Do not dry them in the dryer as they will shrink.
Dye them if you feel stains are permanent.
Never bleach them, it will give temporary cleanliness, but your white vans will become yellow.
Shoes especially white vans cannot last forever so you should clean and maintain them to extend their durability and attraction. It is also noted that some cheap detergent can yellow the color of white vans. Therefore, you must select a detergent that can maintain white color of shoes.
Cleaning with Mild Detergent
It is a very simple procedure that requires warm water, mild soap, expired toothbrush and towel.
Remove the laces of shoes and wash them separately.
Add warm water into a bucket and put some detergent into it and make a foam of it. Now hold you white vans over the bucket and soak the brush in detergent water.
Scrub the shoes with the brush gently over all surfaces including rubber sole while harsh stains require some pressure.
Continue until the dirt has been completely removed and you can see the original white color of your shoes.
Now rinse the shoes with clean water and place the shoes on the towel and wrap the towel around the shoes.
Press the shoes gently to remove excessive water.
Let the shoes dry in open air and ensures the 100% drying otherwise mold growth will destroy your shoes.
Cleaning with Baking Powder or Baby Powder
Baking powder or baby powder can clean your white shoes efficiently by following how to clean white vans.
Add a small amount of baking powder or baby powder in a bowl. Now add a little hot water into it to make a thick homogeneous paste.
Remove shoes lace to achieve perfect cleanliness.
With the help of shoe brush to remove all loose debris and dirt.
Take a clean expired toothbrush and apply the paste evenly on the whole shoes.
Scrub the paste in a circular motion gently and lightly.
Do not forget to rub the rubber portion of your white vans with paste.
Let the paste stay on shoes for few moments.
Remove the paste with a damp cloth.
Let it dry in fresh air and avoid drying in sunlight to prevent discoloration through sun rays.
You will be amazed to see sparkling white vans again just like a brand new pair of white shoes. To remove hard stains from rubber sole scrub it magic rubber eraser.
Cleaning White Shoes with Baking Soda & Vinegar
Another paste can help you out to clean your white vans when they become dirty. Their cleanliness is vital to maintaining their white color and beautiful texture. How to clean vans is compelling if you want to wear them and keep them neat and clean.
Cleaning paste can be made by adding one tablespoon of vinegar, one tablespoon of baking soda and one tablespoon of hot water. Mix it until a homogeneous paste is formed.
Take an old brush and rub the paste on whole shoes including canvas and rubber.
Scrub the paste gently on the shoes while the harsh stains need a harsh application to remove them.
Rinse the shoes with lukewarm water to remove vinegar and baking soda completely.
Dry them in the fresh air completely and replace the laces.
You can also use white liquid chalk to whiten toe portion of shoes and remove it after few moment and wash away with a sponge and clean damp cloth.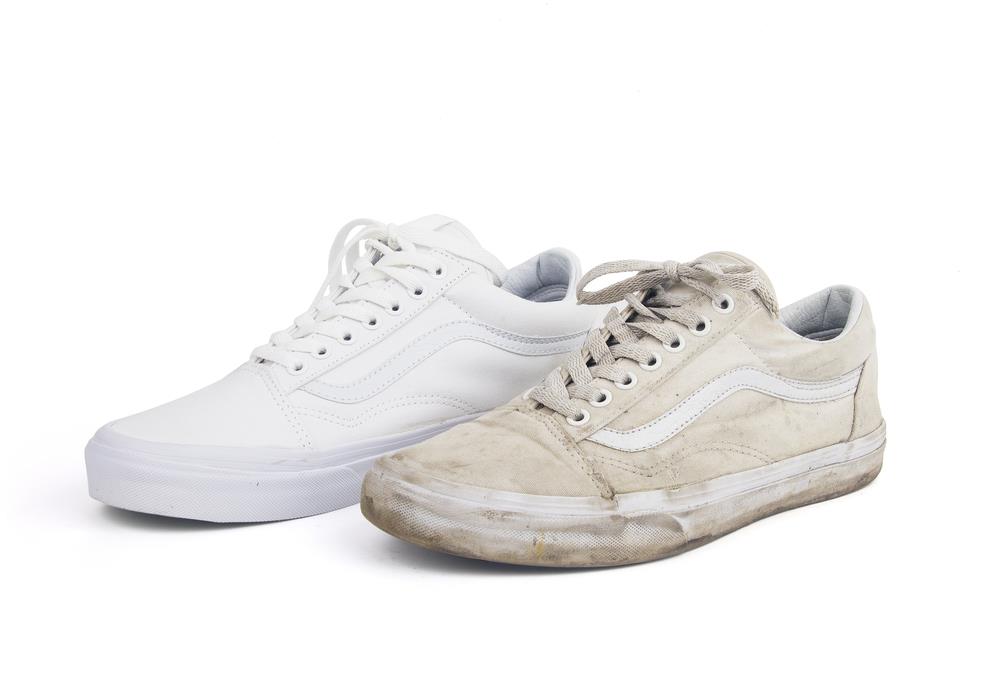 Removal of Yellow Stains from White Vans
White vans are adorable footwear that suits to both genders. They give a classy look that can be disturbed by yellow stains due to dirt, sweat, and harsh cleaning. Regular cleaning can avoid the formation of these yellow stains.
Remove the laces from the shoes and put them in any cloth bag and tie it. Now throw it in washing machine, they will be cleaned without knots and tangles.
Add a small amount of detergent in the lukewarm water and scrub it on white vans with the help of brush to remove tough stains and blotches.
Now put the shoes in a washer having warm water.
Add one cup of vinegar in the slow machine during the rinsing process to remove all residues of detergent that are the real cause of yellowing and prevents bright whitening.
Dry them in the dryer at very low heat until they completely dry because moist air can also yellow the white vans.
To remove odor, you must soak them in vinegar before washing.
Different cleaning and washing procedures can help to get the sparkling whiteness even for old white vans that you do not want to throw out.